Discover the Panhandle's Wineries
Nestled between two subtle ridges of the Appalachian Mountains, the West Virginia panhandle brings a unique set of vineyards to the table. Over 30 unique and mesmerizing vineyards can be visited within less than an hour from Harpers Ferry.
Winery Events on Mother's Day
Breathtaking
Looking for something a little more mind blowing? Check out our top picks of the most beautiful.
Close to Home
Check out some really cool vineyards without getting too far from the panhandle.
What happens at vineyards?
Vineyards all have different things going on. Give a few places a call to see what kind of stuff they get into. If you enjoy visiting beautiful places with interesting history and like wine, what are you waiting for? (unless it's winter, then we see what you're waiting for)
The top 5 wineries near the panhandle
With so many unique aspects to a vineyard, it's difficult to say which ones are best. Some people enjoy the authentic historic look, others request the use of a modern facility for their events. We've done our best to help you get a feel for each vineyard around the panhandle, but if you're still not sure where to go, here's some more to read.
All Wineries
These are within about an hour of the panhandle and offer wine tasting at some point of the year.
Bloomery Plantation Distillery
Blue Mountain Wine Crafters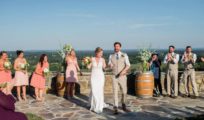 Cana Vineyards and Winery of Middleburg
Cardamon Family Vineyards
Greenhill Winery & Vineyards
Hiddencroft Vineyards LLC
Orchid Cellar Meadery and Winery
Willow Oaks Craft Cider and Wine
Willowcroft Farms Vineyards